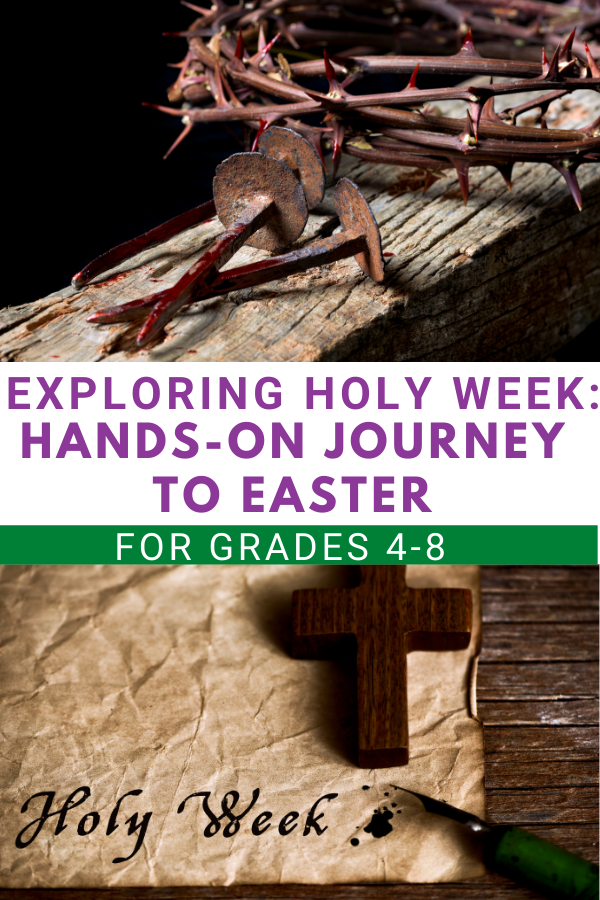 In today's secular world, it's easy for our children to lose sight of the real reasons why we celebrate Easter. One example being- Easter isn't just a day. We can't simply celebrate Christ's resurrection on Easter without also walking with Him through Holy Week- from Palm Sunday, to the Last Supper on Holy Thursday, to his condemnation and crucifixion on Good Friday. Each of these steps is vital in Christ's passion and resurrection. If you're looking for an engaging and meaningful way to teach your children about Holy Week, this hands-on study is for you!
The Exploring Holy Week: Hands-On Journey to Easter includes:
Learn & Explore: with 8 engaging and educational videos, your child will all about Holy Week, Palm Sunday, Holy Thursday, Good Friday, Holy Saturday, Why Jesus died, and the Resurrection.
Fun & Creative: your child will complete Christian Easter-themed art projects, science experiments, and more.
Watch & Listen: with a beautiful youth animation of an Easter hymn and pray and walk with Jesus on His walk to Calvary with the Stations of the Cross.
Snack Time: 6 delicious Easter-themed snack recipes
Research & Recall: 7-page Exploring Holy Week printable worksheet pack
Exploring Holy Week Escape Challenge- a fun, interactive digital escape room activity
Suggestions for structure of study and study planning sheets are included!
This study was created for children in grades 4-8. It can be adapted for use with multiple ages and it gives the parent the flexibility to pick and choose which activities are completed to match the child's age/ability. There is also an Exploring Easter: Hands-On Journey to the Heart of Easter available for grades K-3. Find it here.
Purchase once and receive lifetime access to all study materials.